WORKSHOP – GRAN CANARIA SPAIN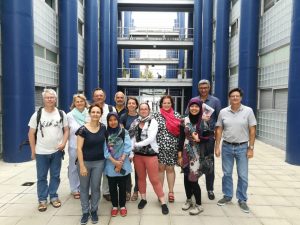 On behalf of Universitas Tanjungpura (UNTAN), I had an opportunity to participate on workshop "diatom reproduction and strain maintenance". This workshop has been held in Faculty of Marine Science, Universidad de Las Palmas de Gran Canaria and Banco Espanol de Algas (BEA) – Spain from 11 – 14th June 2019.
This workshop was supported by GHaNA project – European Commission – Horizon 2020 – Marie SkLodowska Curie Action (MSCA) – Research and Innovation Staff Exchange (RISE).
In this opportunity, I would like to thank to European Commission, Universitas Tanjungpura (Indonesia), Uniwersytet Szczecinski (Poland), Le Mans Université (France), Universidad de Las palmas de Gran Canaria annd BEA (Spain) – ikha –